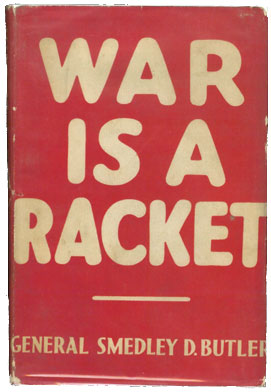 Major General Smedley Butler USMC
Marine Smedley Darling Butler is one of the most highly decorated military men from the pre-World War II era. He served from 1898 to 1931 and saw action all over the world.
Butler won the Congressional Medal of Honor twice.
In a few selected quotes from War is a Racket he writes:
"War is just a racket. A racket is best described, I believe, as something that is not what it seems to the majority of people. Only a small inside group knows what it is about. It is conducted for the benefit of the very few at the expense of the masses."

WAR is a racket. It always has been.

It is possibly the oldest, easily the most profitable, surely the most vicious. It is the only one international in scope. It is the only one in which the profits are reckoned in dollars and the losses in lives...

In the World War a mere handful garnered the profits of the conflict. At least 21,000 new millionaires and billionaires were made in the United States during the World War. That many admitted their huge blood gains in their income tax returns. How many other war millionaires falsified their tax returns no one knows...

Out of war nations acquire additional territory, if they are victorious. They just take it. This newly acquired territory promptly is exploited by the few – the selfsame few who wrung dollars out of blood in the war. The general public shoulders the bill...

And what is this bill?

This bill renders a horrible accounting. Newly placed gravestones. Mangled bodies. Shattered minds. Broken hearts and homes. Economic instability. Depression and all its attendant miseries. Back-breaking taxation for generations and generations...

...a war that might well cost us tens of billions of dollars, hundreds of thousands of lives of Americans, and many more hundreds of thousands of physically maimed and mentally unbalanced men.

Of course, for this loss, there would be a compensating profit – fortunes would be made. Millions and billions of dollars would be piled up. By a few. Munitions makers. Bankers. Ship builders. Manufacturers. Meat packers. Speculators. They would fare well.

Yes, they are getting ready for another war. Why shouldn't they? It pays high dividends...

The normal profits of a business concern in the United States are six, eight, ten, and sometimes twelve percent. But war-time profits – ah! that is another matter – twenty, sixty, one hundred, three hundred, and even eighteen hundred per cent – the sky is the limit. All that traffic will bear. Uncle Sam has the money. Let's get it...

Of course, it isn't put that crudely in war time. It is dressed into speeches about patriotism, love of country, and "we must all put our shoulders to the wheel," but the profits jump and leap and skyrocket – and are safely pocketed...
"I spent thirty-three years and four months in active military service as a member of this country's most agile military force, the Marine Corps. I served in all commissioned ranks from Second Lieutenant to Major-General. And during that period, I spent most of my time being a high class muscle-man for Big Business, for Wall Street and for the Bankers. In short, I was a racketeer, a gangster for capitalism."
Butler saw the truth of war in the early 1900s.
It hasn't changed. These same truths ring true today as our
government rewards the military industrial complex at the sacrifice of the blood and resources of American citizens.
The wars in Iraq & Afghanistan makes a few much richer,
the rest of us stay the same, get poorer, injured and/or dead.

The "war on terror" is not a "war" in the conventional sense
that can be fought with large armies and expensive weapons.
"Our analysis suggests that there is no battlefield solution to terrorism."
"How Terrorist Groups End," Rand Corp. (rand.org), 2008
Crimes committed by individual against others and should
be delt with through international cooperation of law enforcement agencies,
and the issues that have caused people to resort to terrorist acts
need to be addressed in fair and just ways or the problems
will never be resolved.