ACADEMIC EARTH ~ EDUCATION FOR EVERYONE
AFRICAN PEACE & CONFLICT NETWORK
ALTERNET (Reuters) a humanitarian news network
AMBER WAVES OF GRAIN EXHIBIT, The Nuclear Arsenal Project
AMERICAN FRIENDS SERVICE COMMITTEE
ARMENIAN NATIONAL INSTITUTE (the Armenian Genocide)
BAREFOOT ARTISTS brings the transformative power of art to the most impoverished communities.
BLOG FOR PEACE; a wonderful place of peace blogs by youth from around the world, but adults could learn something from it.
BETTER WORLD LINKS (Great links resource)
BETTER WORLD QUOTES
CAMPAIGN FOR LOVE & FORGIVENESS
The Fetzer Institute
CARNEGIE ENDOWMENT FOR INTERNATIONAL PEACE
CAST LEAD - Art, Theatre & Politics
CENTER FOR ARMS CONTROL AND NON-PROLIFERATION
CENTER FOR GENDER & REFUGEE STUDIES (CGRS)
CENTRAL ASIA INSTITUTE
THREE CUPS OF TEA
When you educate a woman, you educate a community.
CENTRE FOR HUMANITARIAN DIALOGUE
COALITION FOR THE INTERNATIONAL CRIMINAL COURT
CONFLICT RESOLUTION INFORMATION SOURCE (Great Resource Site)
Religious leaders of many faiths support "Words Not War"
You can show your support too.
To sign the petition "Words Not War."
(find the complete petition here).
FRIENDS COMMITTEE ON NATIONAL LEGISLATION
FRIENDSHIP FORCE INTERNATIONAL
GANDHI, KING, IKEDA: A Legacy of Building Peace
GLOBAL ARTICLE 9 CAMPAIGN (abolish war)
GLOBAL NETWORK AGAINST WEAPONS AND NUCLEAR POWER IN SPACE
GLOBAL ONENESS PROJECT (What would it look like?)
GLOBAL PEACE FILM FESTIVAL, Orlando Florida
GLOBALSCHOOLNET.ORG, linking kids around the world (Teacher Resource)
THE GOLDEN RULE IN DIFFERENT RELIGIONS
GREATER GOOD SCIENCE CENTER, The Science of a Meaningful Life
HEIDELBERG INSTITUTE FOR INTERNATIONAL CONFLICT RESEARCH
(excellent statistics on conflicts available online)
H-PEACE DISCUSSION NETWORK
H-Peace is an international electronic network affiliated with the Peace History Society that seeks to broaden understanding about historical and contemporary peace, justice, and disarmament concerns.
HUMANKIND MEDIA media for the global citizen
virtual peace demonstration, show your support
HUMAN RIGHTS EDUCATION ASSOCIATES (HREA)
THE INTER-AGENCY NETWORK FOR EDUCATION IN EMERGENCIES (INEE)
INTERFAITH ENCOUNTER ASSOCIATION
INTERNATIONAL ACTION NETWORK ON SMALL ARMS
INTERNATIONAL CAMPAIGN TO BAN LANDMINES
INTERNATIONAL CENTER ON NONVIOLENT CONFLICT
INTERNATIONAL COURT OF JUSTICE
INTERNATIONAL INSTITUTE ON PEACE EDUCATION (IIPE)
Teachers Resource
INTERNATIONAL INSTITUTE FOR PEACE THROUGH TOURISM
INTERNATIONAL NETWORK OF MUSEUMS FOR PEACE
INTERNATIONAL PEACE BUREAU
Founded 1891, Nobel Peace Prize 1910, UN Consultative Status (ECOSOC)
INTERNATIONAL RELATIONS CENTER
IRWIN ABRAMS is Distinguished University Professor Emeritus at Antioch University. He is regarded as one of the world's leading authorities on the Nobel Peace Prize and the history of the international peace movement
JAGDISH GANDHI has been building bridges of peace across the globe for nearly sixty years.
JEWISH-ARAB CENTER, Haifa University
LANGUAGES - expand your world, you are a global citizen.
BBC Languages is a great place to start.
LIFE-LINK FRIENDSHIP-SCHOOLS, (Teacher Resource)
a wonderful peace resource for teachers and parents.
LIONS INTERNATIONAL PEACE POSTER CONTEST
THE LION AND LAMB PEACE ARTS CENTER, BLUFFTON UNIVERSITY
MANCHESTER COLLEGE PEACE STUDIES INSTITUTE
& NONVIOLENT SOCIAL CHANGE BULLETIN
THE MARTIN LUTHER KING JR. Research Institute at Stanford University
MISSING PEACE ART SPACE, the Art of Peace
M.K. GANDHI INSTITUTE FOR NONVIOLENCE
MOSAIC PROJECT, Peacing it together
NEVE SHALOM/WAHAT AL-SALAM (NS/WAS) which means "Oasis of Peace" in Hebrew and Arabic
NOBEL PEACE PRIZE Looking back at the women who have won the Nobel Peace Prize. BBC audio
NOBEL PEACE PRIZE EDUCATIONAL PEACE VIDEO GAMES
PAIXLAND, declare your independence from violence.
PEACE & COLLABORATIVE DEVELOPMENT NETWORK
PEACEFUL SOCIETIES (great site about societies that don't use war to solve their problems)
PEACE & JUSTICE SUPPORT NETWORK of the Mennonite Church, USA
PEACE & JUSTICE STUDIES ASSOCIATION
Teachers Resource
PEACE LEARNING CENTER, Indianapolis, IN
PEACE MEMORIALS (map of peace memorial/monuments around the world)
PEACE MONUMENTS AROUND THE WORLD
PEACE PILGRIM From 1953 to 1981 a silver haired woman calling herself only "Peace Pilgrim" walked more than 25,000 miles on a personal pilgrimage for peace.
PEACE VOICE (Free Peace Think Tank)
PEOPLE TO PEOPLE INTERNATIONAL
The purpose of People to People International is to enhance international understanding and friendship through educational, cultural and humanitarian activities involving the exchange of ideas and experiences directly among peoples of different countries and diverse cultures.
PHYSICIANS FOR SOCIAL RESPONSIBILITY
PLANETA.COM, global journal of practical ecotourism
ROTARY INTERNATIONAL PEACE EDUCATION
SCIENTIST FOR GLOBAL RESPONSIBILITY
SHRI RAM CHANDRA MISSION (Heart Centered Meditation)
Beavercreek-Dayton Location
SOKA GAKKAI INTERNATIONAL (SGI)-USA
STOCKHOLM INTERNATIONAL PEACE RESEARCH INSTITUTE
SUSTAINABLE TRAVEL INTERNATIONAL
TAKING IT GLOBAL (excellent youth oriented peace action web site)
THEOSOPHICAL SOCIETY OF AMERICA
wonderful spiritual resources
TIKKUN, to heal, repair, and transform the world.
U.N. CYBERSCHOOLBUS
Teachers Resource
United Nations Educational, Scientific and Cultural Organization (UNESCO)
UNITED STATES CONGRESSIONAL CONTACTS
USA political representation contact information can be found at http://www.senate.gov/general/contact_information/senators_cfm.cfm and http://www.house.gov/house/MemberWWW.shtml
UNITED STATES INSTITUTE OF PEACE, (Teacher Resource)
PEACEBUILDING HIGH SCHOOL MIDDLE SCHOOL
THE UNITED STATES FEDERATION FOR MIDDLE EAST PEACE (USFMEP)
U.S. PEACE MEMORIAL,
The US Peace Memorial, in Washington DC, will honor the millions of thoughtful and committed Americans who have dedicated their lives to peace or taken a stand against a particular US war. It will serve as a reminder that Americans value peace. It does not seek to diminish or disparage the important role of those who serve in the US military. It seeks, instead, to balance the message.
NATIONAL VETERANS ART MUSEUM, Chicago IL. (everyone should visit this museum) a soldier's perspective through art
VIOLENCE IN DATING, What to watch for and additional links
VIRTUAL LIBRARY OF THE INTER-AMERICAN PEACE INITIATIVES
VISION OF HUMANITY home of the Global Peace Index.
VOICES OF CREATIVE NONVIOLENCE
WAGING PEACE Nuclear Age Peace Foundation
WILLIE NELSON PEACE RESEARCH INSTITUTE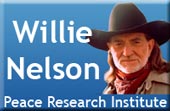 "WILL WAR EVER END", Capt. Paul K. Chappell graduated from West Point in 2002. He has served in the army for seven years and was deployed to Baghdad, and he will be leaving active duty in November 2009 as a Captain. He is the author of Will War Ever End?: A Soldierís Vision of Peace for the 21st Century and The End of War: New Ideas for Achieving World Peace (April 2010), and he is working on his third book, Peaceful Revolution. He lives in Santa Barbara, CA, where he is serving as the Peace Leadership Director for the Nuclear Age Peace Foundation (www.wagingpeace.org)

WILMINGTON COLLEGE PEACE RESOURCE CENTER
~WITNESS & REMEMBRANCE~
The Shoah Foundation Archive consists of nearly 52,000 survivor and witness testimonies from the Holocaust. Today, the Shoah Foundation works to make the archive broadly available.
WOMEN'S INTERNATIONAL LEAGUE FOR PEACE & FREEDOM
ENVIRONMENTAL PEACE
GLOBAL WARMING: EARLY WARNING SIGNS
HEATING UP THE EARTH - GLOBAL WARMING FOR KIDS
NUCLEAR INFORMATION & RESOURCE SERVICE
A World that doesn't fight over resources,
and has clean air to breath is a World at Peace.
Proper conservation and green technology can give us that world.
Online Peace Resource Center for Educators & Students
Peace resources for educational/fair use compiled in an online database.
View "Online Peace Resource Center"